You might have seen the RCVS Accredited Practice logo displayed proudly in your practice and wondered what it meant.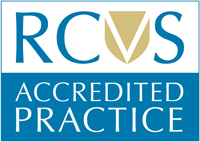 Or if your pet is not already registered with a practice, you might be keen to find one which has received RCVS accreditation.

RCVS accreditation is made under our Practice Standards Scheme, and means that the practice has undergone a rigorous inspection by the College.

Read more about the Practice Standards Scheme in the Accredited Practices section.

You can search for the RCVS Accredited Practice that is nearest to you by using our Find a Vet search tool.