Before you raise your concerns with us, please read the following.
Introduction
The Royal College of Veterinary Surgeons (RCVS) registers veterinary surgeons to practise in the UK and regulates their conduct, primarily through the RCVS Code of Professional Conduct and through the investigation of concerns. Our aim is to act in the public interest by safeguarding the health and welfare of animals and ensuring proper standards of conduct in veterinary practice.
There are around 20,000 veterinary surgeons practising in the UK and there are many thousands of consultations taking place every day. Generally, all goes well, however, if things go wrong, you may wish to raise your concerns with us.
The following information explains what you need to know first and how you should go about this. If you would prefer initially to discuss your concerns with us, you can telephone us on 020 7227 3509.
Can I raise concerns about anyone working in a veterinary practice?
We can consider concerns raised about individual veterinary surgeons and registered veterinary nurses (RVNs). (If you wish to raise concerns about an RVN, please view Raising concerns about an RVN.)
We do not register, or have powers to take disciplinary action directly against, other veterinary practice staff, for example, receptionists, animal care assistants or those supplying services. Some other staff may be regulated by other bodies, for example, farriers are regulated by the Farriers Registration Council.
Veterinary surgeons as employers may take responsibility for those acting under their direction or supervision. If you aren't sure whether we can investigate the person you are concerned about, please contact us for advice.
What types of concerns can the RCVS deal with?
We can only deal with the most serious concerns that affect a veterinary surgeon's fitness to practise, ie their right to work. This would involve behaviour that has fallen far short of what is expected of a veterinary surgeon and would include, for example:
Very poor professional performance where there are serious departures from the standards set out in the

RCVS Code of Professional Conduct

Fraud or dishonesty

Physical or mental health problems affecting ability to work
We cannot, as part of our statutory regulatory process:
fine a vet;
order a vet to carry out additional treatment that you think your animal needs;
order a vet to apologise to you;
order a vet to refund fees you have paid or to cancel fees that are outstanding;
give you clinical advice about the treatment your animal has had;
order a vet to pay you compensation, or help you to do this; or,
resolve issues relating solely to negligence (read our note on negligence).
(If you are seeking compensation and you think that your veterinary surgeon has been negligent then you need to obtain your own legal advice as we cannot give this to you. Possible sources of guidance on this may be found via the Law Society and/or Citizens Advice.)
Do I have to exhaust the complaints procedure at my veterinary practice before I can raise concerns with the RCVS?
No. However, in many cases, concerns can be resolved directly with the veterinary surgeon/practice. While we understand that this can sometimes be difficult, we would strongly encourage you to try and speak to the practice in the first instance to discuss any concerns that you have.
Can I raise concerns about something that happened a number of years ago?
Ordinarily, we will not investigate concerns that are more than two years old. If you wish to tell us about something that happened more than two years ago, you should explain to us why you have not raised your concerns with us before.
The matter will then be referred to the Chairman of the Preliminary Investigation Committee (PIC) and the Head of Professional Conduct, who will decide if we can take it further.
Can I write to you anonymously?
Generally, we need to send to the veterinary surgeon a copy of your concerns and any supporting documents you provide to us.
We will need your agreement to do this and to reveal your identity. If you do not agree to this, then it is unlikely we will be able to progress matters.
If you have any worries about disclosing your identity then you should contact us on 020 7227 3509.
Can you stop a veterinary surgeon from working while you look into my Concerns
No – we have no powers of interim suspension.
A decision to stop a veterinary surgeon from working can only be made after there has been a full Disciplinary Committee (DC) hearing.
The DC has a range of sanctions that it can impose – removal from the register is only one of these (see flow chart below).
What do I need to do to raise a concern?
You will need to fill out a form – Raising concerns about a veterinary surgeon – and send it to us.
You can either download this form, complete it electronically and email it back to us, or you can print it out, complete it by hand and post it to us. You can also telephone us to ask us to post a form to you.
It is important you give us as much information as possible. If we don't have all the information we need, it will take us longer to consider your concerns.
The sort of information we need includes:
details about you – your name, address, email address and telephone number;
details about your animal, including name, species, gender and age;
details of the veterinary surgeon you wish to complain about. If possible, please provide the veterinary surgeon's full name and address. If you only have a partial name, then include this;
details about what happened and the reasons why you are concerned;
details of any other another veterinary surgeon you consulted after the incident(s) in question, including their name, address and telephone number. Please tell us why you visited this veterinary surgeon and what happened next; and,
any supporting documentation, including copies of any correspondence between you and the veterinary surgeon, or copies of any clinical records (NB Please do not send original documents in the first instance. If we need these, we will ask for them).
If you need help completing the form, or are not sure what to include, then you are welcome to call us on 020 7227 3509.
We understand that when things do not go according to plan at your veterinary practice, especially where your pet has been euthanased (put to sleep), this may be a very difficult time for you.
In such circumstances, you may find it helpful to contact the Blue Cross Pet Bereavement Support Service.
What happens once I've sent in my form?
Once you send us your form, you should receive an acknowledgement within two working days to say that we have received it.
A Case Manager will then be assigned to you, and he/she will contact you by telephone within two weeks to discuss your concerns and explain our three-stage investigation process, as set out in the following diagram.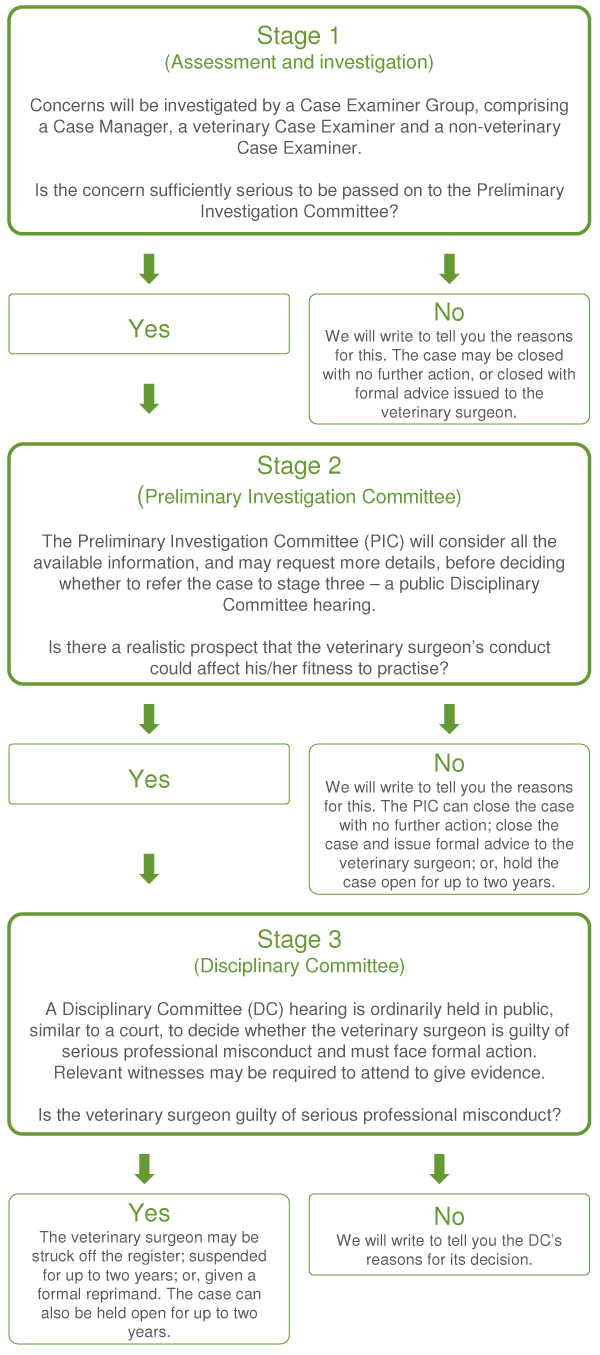 Can I see previous decisions?
All concerns raised with us are confidential unless and until they reach the final stage of our investigation process and are referred to the RCVS Disciplinary Committee (DC) for a (usually) public hearing.
View the DC's charges, findings, decisions and judgments from the past three years.

Will you keep me informed about progress?
Yes.You will receive regular updates from your Case Manager, who you may contact at any time during normal office hours if you need any information or have any uncertainties.
For more detailed information, please view How we assess and investigate concerns raised against a veterinary surgeon.