Veterinary practices come in many shapes and sizes, offering varying ranges of services and facilities, depending on their location, practice size and staff. The majority of practices are business, although some charities offer subsidised pet healthcare to clients who meet certain criteria.
RCVS-accredited practices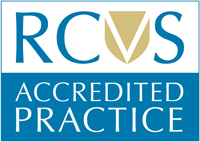 The voluntary RCVS Practice Standards Scheme accredits veterinary practices according to the services and/or specialities they offer. Accredited practices undergo rigorous inspection by qualified inspectors every four years. Between inspections, practices may also be subject to spot checks. Accredited practices display the RCVS Accredited Practice logo.

For further information on RCVS-accredited practices, please see the Practice Standards section of the website.
Issues to consider
It's important to choose a practice which suits the needs of you and your animal.
Using the Find a Vet search tool you can find practices that are close to you, or another place, such as a holiday destination. You can also refine your search to find RCVS-accredited practices, and those that deal with specific species or have RCVS Specialists in the team.
As a regulator, we do not recommend specific practices, but the aim of this page is to suggest some factors that you may like to consider when choosing a veterinary practice to care for your animal. Careful thought should be given to choosing a vet, so that a long-lasting partnership between you and your vet can develop, benefiting the wellbeing of your animal.
Some of the issues you may like to bear in mind are:
What do other animal owners in your area feel about their vet? Do they have the same type of animal as you? Are their requirements the same as yours?
Where is the practice located? Is it near any public transport links? Does it have a car-park? Are there any branch practices which may be nearer to your home?
What services and facilities does the practice offer?
What range of animal species is normally treated?
What are the practice consultation times and are they convenient to you?
How does the practice handle its emergency out-of-hours arrangements? Does it cover emergencies itself or work with another practice or specialist emergency services provider? From where is the service delivered? Bear in mind that in most cases it will be best for your animal if it can be brought into the clinic for emergency treatment. Further information about emergency services will be available soon on our out-of-hours emergency care page.
What are the costs for routine treatment? There may well be variation in costs, depending on location, facilities offered and overheads. A practice should be able to give you typical costs for routine treatments, such as puppy vaccination or bitch spay.